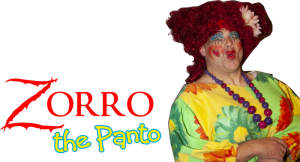 The Company is proud to present Zorro the Panto, by Chris Liversidge, loosely based on the original character by Johnston McCulley
Our pantomime Dame, Senora Margarita Juanita Fajita will guide you through all the fun and frolics as only a typical Dame can. As always there will be plenty of songs and dances brought to you by our Musical Director Chris Hinkins and Choreographer Nancy Shackleton, with such classics as Dance the Night Away, La Bamba and (you heard it here first) Little White Bull! A pair of slapstick firemen add to the comedy and chaos and we even have a visit from a famous President!
You will be actively encouraged to cheer the goodies, whilst unceremoniously booing the baddies – Captain Ramon, Sgt Gonzales and the hapless comedy duo Taco and Nacho. Will they be able to capture Zorro's sweetheart Lolita? Will they be made fools of by Zorro and his highly intelligent horse, Tornado? There's only one way to find out. Come along to The Lion Theatre, join in the fun and watch a show with something for everyone!
BOOKING INFORMATION
You will be able to book tickets for the pantomime from Friday, 1st December 2018. All tickets will be £7.00.
We regret that, due to demand and ticket availability, there will be no concessions, including for Company members, and all tickets must be pre-paid. The Company reserves the right to re-sell any tickets not paid for one week in advance. One in every ten tickets purchased as part of a group booking will be free of charge.
30th January to 2nd February and 6th to 9th February 2019, 7.30 nightly & 3pm Saturday matinees at the Lion Theatre